Orthodontic Emergencies – Holliston, MA
Solutions Designed to Relieve Pain and Repair Smiles
The process of wearing braces of any kind involves making the right decisions and taking the appropriate steps to not only ensure positive and life-changing results but also reduce the risk of orthodontic emergencies. From broken brackets and loose wires to increased pain and soft tissue irritation, the team at Simply Orthodontics is here to provide immediate care when you need it most. When attempting to find an orthodontist in Holliston, you'll be pleased to learn that Dr. Sam Alkhoury and Dr. Alan Carlotto can employ useful techniques and beneficial solutions that will address your problem, minimize delays, and get your smile back on track. If you would like to learn more about what you can do to reduce pain and avoid more serious orthodontic problems at home while waiting to see one of our qualified orthodontic specialists, contact us today.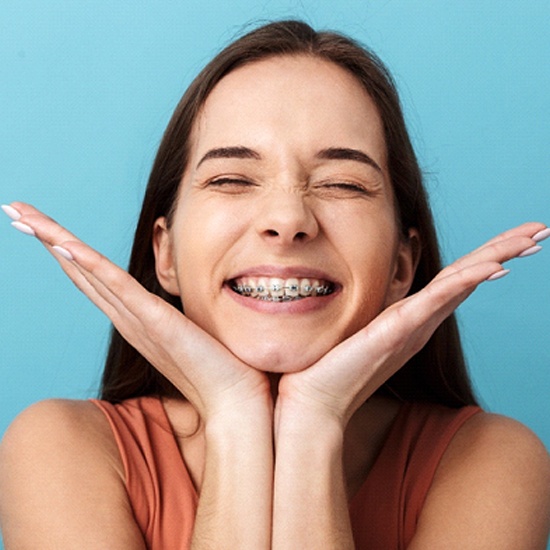 How to Handle Common Orthodontic Emergencies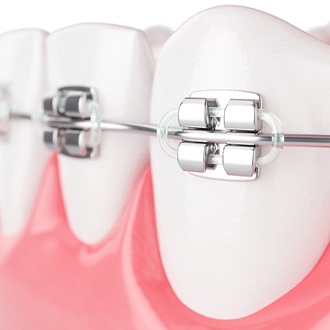 No matter how well you are cleaning your teeth and metal appliances, and no matter which foods you are avoiding while wearing braces, there is always a chance an orthodontic emergency can occur. Most can be easily fixed by a member of our team, but in the meantime, there are a few things you can do at home that will keep your smile from worsening, such as:
Broken/Loose Brackets
When faced with a broken or loose bracket, you'll need to bring it with you to your appointment if it's completely removed or apply dental wax to help hold it in place if it's partially attached. Choosing to avoid necessary help in this situation will unlikely cause pain or discomfort, but you can expect there to be a significant delay in treatment. So, make sure to contact our office if a bracket becomes loose or falls off completely.
Poking Wire
Keeping orthodontic wax in your medicine cabinet will be one of the best investments you'll make while wearing braces. Apart from helping to ease soft tissue irritation, it can be your greatest ally (apart from your orthodontist) when dealing with a poking wire. You'll likely begin to feel it rub against your lips, cheek, or gums. By taking a pencil eraser, you can gently push the wire back into place before adding wax to help hold it and avoid additional irritation to your soft oral tissues.
Broken Retainer
After you've finished wearing braces, you'll be expected to wear a retainer, as it will help keep your teeth in their new position. However, should it break at any point, you'll need to contact our office as soon as possible. This will allow us to quickly have a new one made and prevent your teeth from shifting back into their original position.
Tooth Pain
It is not uncommon to experience soreness and discomfort when first beginning orthodontic treatment as well as after your follow-up appointments that involved a wire adjustment. With an over-the-counter pain reliever, this pain should not last long; however, if you notice the pain appears to stem from more than just the regular discomfort you feel because of your braces, it may be that an infection has formed in your tooth. While waiting to see us, you'll need to rinse your mouth with warm saltwater and carefully floss around the tooth to make sure nothing is lodged between your teeth. If the pain persists, you will likely need complex treatment to address a more serious issue.
How to Prevent Orthodontic Emergencies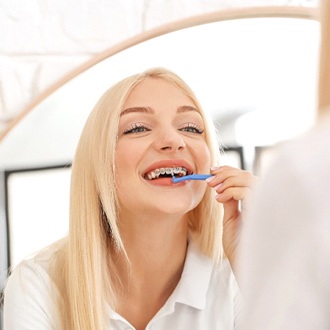 Naturally, knowing how you can prevent any of the previously mentioned emergencies is best. No one wants to experience the pain that is associated with most of the instances, which is why we've compiled some helpful tips that will work to reduce your risk of injury and keep your orthodontic treatment right on track:
Continue to brush, floss, and rinse your smile regularly to eliminate the possibility of decay, cavities, and gum disease.
Continue to visit our office for follow-up appointments as well as your dentist for six-month checkups and cleanings.
Avoid eating hard foods that can easily break brackets or cause wires to pop out.
Never use your teeth as tools to open packages or containers.
Wear a mouthguard when preparing to engage in sports or other physical activities.
Stop biting your nails, smoking, eating ice, or chewing on inanimate objects.